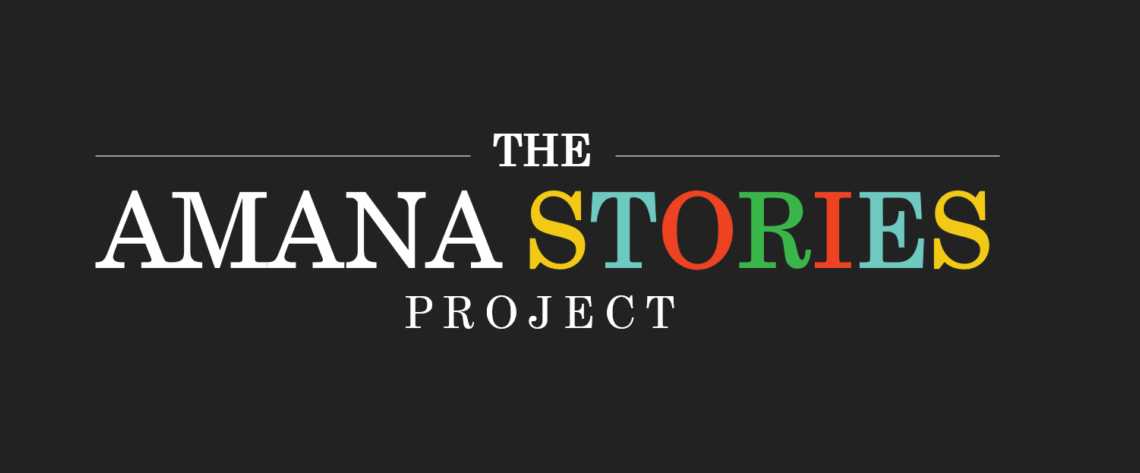 The Strickland Family History
By Nadine Strickland
When I met my husband, I was very surprised that he was born and raised right here in the Metro Atlanta area. His whole family was living here in Roswell, Alpharetta, Marietta, Atlanta and has always been very rooted in this area.
When I eventually moved to the United States, and yes Roswell, in 2002 & joined this family, I was amazed to see that a lot of family members, especially the older generation, all lived in "The Alley", in downtown, historic Roswell and that such a large family can be so tight knit and community orientated. Unfortunately, with elders passing away and other immediate family members living elsewhere in surrounding areas, opportunities were taken to sell their family lots to developers who put up condos and townhouses.
The Strickland Family Reunion used to be always held in "The Alley". No invitations were sent, and everyone knows that the 3rd Sunday in August, we come together. This tradition started as a celebration for Rosa Lee Brown's birthday and was continued on as a family reunion after her passing in 1975.
Now with the new homes there, the annual reunion had to be moved. We found a new home, at a local park, and the celebration is still going strong.
Annie Porter Strickland, my husband's 90 years young grandma, still lives in historic Roswell today along with a couple of her children. She has passed up many offers from developers to purchase her property.
Annie was married to Joseph Harrison Strickland, who passed away in June 2011. Joseph was the youngest of ten siblings and son to Rosa Lee Brown & Russell Strickland. Joseph was named after his grandfather on Russell's side, who was also named Joseph Harrison Strickland. The elder Joseph Strickland's fathers name was Walter Strickland. Walter Strickland, the great-great-great-great grandfather to our children, was a slave.
Remember Rosa Lee Brown? Right, she was the wonderful lady that started it all for the annual reunions. Rosa Lee Brown was born in Forsyth County in 1885 to Jeremiah & Nancy Brown. Nancy was a homemaker and Jeremiah a blacksmith. The family was forced out of Forsyth County in 1912. Rosa Lee's family moved to Alpharetta. Russell Strickland was born in 1880 and his family used to live in Shakerag, GA, which now is considered Johns Creek, on the Fulton County side. He did work for a Caucasian man in Forsyth County, where he then met Rosa Lee.
Isn't the below a breathtaking picture of Rosa Lee and her siblings? Rosa Lee is the second to the left. It is so wonderful to have a picture of our children's great-great grandma when she was young.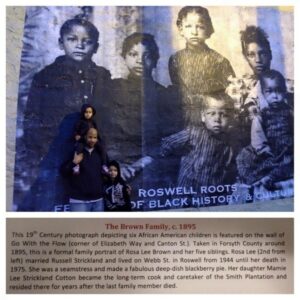 Rosa Lee was a very skilled seamstress, who made dresses for her community. While my husband doesn't remember eating her blackberry pie. He swears he can still taste Rosa Lee's daughter Mird's (Mary) version of the homemade deep dish blackberry pie, which she often made after the younger children, including my husband, collected the berries in the woods behind the families homes.
You also may know one of Joseph Strickland's other sisters, Mamie Cotton. Mamie was the longtime housekeeper for the Smith Family, she worked for them at Smith Plantation for 54 years.
She moved into the Smith Plantation, when Arthur Smith died and Mary Smith's health was deteriorating.
When Mary died in 1981, the house was sold to the City of Roswell, but Mary made sure that Mamie could stay at the plantation until her death. Mamie was living there when tours started in 1992. She passed away in 1994.
Mamie also had a house in "The Alley", which eventually was one of the properties that were sold to developers.
My husband still remembers how witty & funny Mamie was. And of course that she was an exceptional cook and she baked the most delicious fresh bread.
Isn't it amazing that Mamie as an African American woman, was the last to live in Smith Plantation, a home built by slave labor?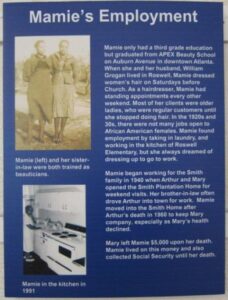 Another incredible fact about the Strickland Family is that two of Joseph & Annie Strickland 's sons were part of the first African American basketball team in North Fulton that won the GA State Championship with their segregated school. Larry Strickland & Leroy Grogan, both attended Bailey Johnson right here in Alpharetta, along with their siblings. There, both Larry & Leroy excelled at basketball and the team made it to & won the State Championship back in 1965.
Bailey Johnson was the only school in North Fulton that serviced the African American community during segregation, before then they had to travel all the way down to Atlanta for formal school. Both Larry & Leroy graduated from Bailey Johnson. My husband's mom, Emily Strickland Winters attended Bailey Johnson as well, but graduated from Roswell High School after segregation ended. Until her death, she was an integral part in organizing the annual Bailey Johnson Reunions.
The building where Johnson Bailey was housed is now the North Maintenance Facility for Fulton County Schools, on Kimball Bridge Road.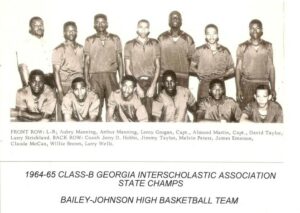 Leroy Grogan has become the family historian, filling binders and books with birthdates, photos, family trees and everything else noteworthy to keep the Strickland Family history alive. He is part of the Roswell Historic Society and partakes in many of the events honoring the Strickland Family history, including shining light onto the expulsion of African Americans from Forsyth County back in 1912.
Just a couple weeks ago, Leroy and his brother Larry helped to unveil a new important history marker now set in downtown Cumming, GA educating on the lynching that happened in Forsyth County.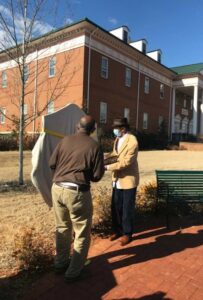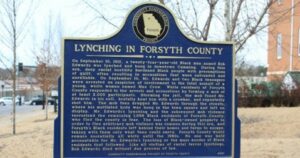 Here are also additional links on this topic:
1912 lynching, black residents forced out of Forsyth County | | cbs46.com
EJI Partners with Community to Memorialize Lynching Victims in Forsyth County, Georgia
If you want to read about the history on African Americans being expelled from Forsyth County, GA, I would recommend the below book.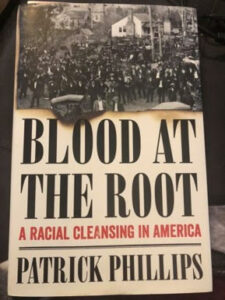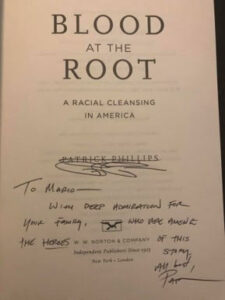 Strickland Family members, including Rosa Lee's grandchildren provided facts and photos, to help the author write this book.
I can't wait to see what the future will bring for the current generation of the Strickland Family and all future generations. I hope for continuation of greatness, kindness & understanding.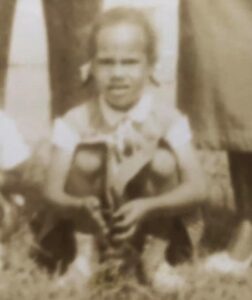 In hopes to making this world a better place. And maybe one day there will be an article or two about Ira, Lia or Ava Strickland, some of the youngest descendants of this amazing family!
And to end it on a fun note… The Strickland genes are strong! Is this an old picture of our 4th grader Lia or her grandma, Emily Strickland?